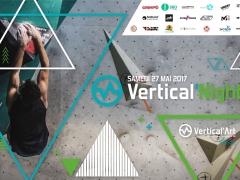 Vertical Night 2 will bring together the French and European climbing elite on 27 May 2017 at Vertical' Art in Montigny le Bretonneux, near Paris in France.
It's an event for everyone, with 6 levels of difficulty, 50 qualification boulders, 4 finals boulders and 50 prizes to be won!
For this second consecutive edition, ENTRE-PRISES is providing the route setters for the finals boulders with a selection of holds and volumes.
The Absolute hold range promises exciting challenges, as do the iconic volumes from the EP range.
After a tough selection phase, the 6 strongest competitors out of the 400 who have registered will pitch themselves against the finals boulders set by the national French team.
Jan Hojer, Sean Mc Coll, Mago Hayes, Petra Klinger, Alizee Dufraisse and many other athletes will be putting their skills to the test.