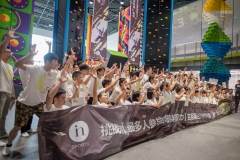 On 28th May, at the in99 Yin-tai shopping mall in Chengdu, China, the first Guinness Record involving a CLIP 'N CLIMB wall has been set. Indeed, 99 people challenged themselves on the Speed Climb for a 'relay-climbing with the most people'.
Since its opening on 8th April, the IN SPORTS part of Chengdu's in99 Yin-tai shopping mall, has been devoted to build a satisfying, cosmopolitan shopping mall. And now it has now reached the status of 'leisure shopping paradise' in Chengdu, offering CLIP 'N CLIMB Challenges, artificial caves and augmented reality climbing walls.
In setting this new Guinnes Record of 'Relay-climbing with the most people', IN SPORTS is aiming at populating climbing as a fun and now sport for most Chinese. The happening attracted much attention indeed.
After 4 games auditions and hundreds of competitors with wonderful skills, 99 final challengers got the chance to set a world record as a team. Those 99 finalists were students, white-collar workers, sportives, media professionals and amongst them was one professional rock climber who can reach the top by only 4 seconds!
'They showed a great team-spirit and worked together to complete the final Challenge mission' reported our CLIP 'N CLIMB team in China, who were present at the event. Thank all of you for taking part in this adventure.
99 people in one straight relay and no falls, who can top that?