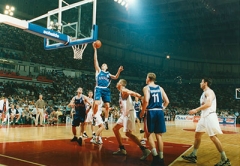 After supplying its backstop units to the FIBA Basketball World Cup in several countries in Europe (Greece, 1998 - Turkey, 2010 & Spain, 2014) this summer it's "showtime" in China!
For the first time the FIBA Basketball World Cup will take place in China. With 32 teams divided into 8 groups of 4 teams, the tournament will be played in 8 different cities: Beijing, Foshan, Wuhan, Shenzhen, Dongguan, Nanjing, Shanghai, Guangzhou.
Each of these cities will have SCHELDE Sports basketball equipment on their training courts (3 units) as well as on their competition court (3 units). In total SCHELDE Sports will provide this event with a record of 48 basketball units!
Each basketball unit will be branded in the colors of the event and city and will have a special look & design!