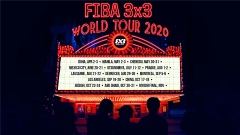 FIBA announces World Tour calendar with record 14 events on 2020 Olympic season.
The ninth edition of the FIBA 3x3 World Tour - the flagship competition of the FIBA 3x3 professional season - will feature an all-time best 13 Masters and a final in Riyadh in November 2020.
The World Tour season continues to stretch in 2020. The season debut in Doha on April 2-3 will be the earliest World Tour event ever played. The final in late November will be – by far – the latest World Tour action in 3x3 history.
FIBA 3x3 Managing Director Alex Sanchez said: "2020 is a big year for 3x3 and we're excited to see our number one competition – the FIBA 3x3 World Tour – continue to expand so quickly. We're proud to attract new amazing cities like Riyadh for the Final and – at the same time – to return after many years to exceptional cities where World Tour history was made like Abu Dhabi and Manila."