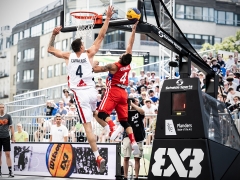 FIBA EuroBasket is one of the most prestigious basketball event in the European continent with a history that dates back to 1935.
This 41st edition of the event, FIBA EuroBasket 2022, will take place from the 1st to the 18th of September across 76 games in five different venues.

Schelde Sports will provide a total of twenty Super SAM 325 PRO backstops for this amazing event. You will find our equipment and staff on location in Prague, Milan, Tbilisi, Cologne and Berlin.

The best players in Europe will showcase their skills on Schelde Sports Super SAM 325 PRO

The 2022 event is the third iteration of FIBA EuroBasket to be co-hosted by four countries, with the multi-hosting format also in place for the upcoming FIBA EuroBasket 2025, which will be organized in Cyprus, Finland, Latvia and Poland.