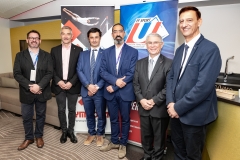 GYMNOVA therefore becomes an official partner and will support the FFSU by providing it with complete equipment for the French Artistic Gymnastics Championships, and confirms its commitment to developing and promoting gymnastics to schools and universities.

The FFSU organizes university gymnastics competitions every year with quality FIG-approved equipment.

GYMNOVA se convierte así en socio oficial y apoyará a la FFSU proporcionándole un equipamiento completo para los Campeonatos de Francia de Gimnasia Artística, y confirma su compromiso con el desarrollo y la promoción de la gimnasia en las escuelas y universidades.