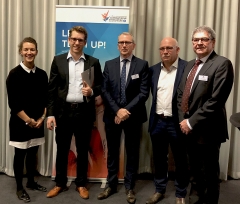 JANSSEN-FRITSEN has extended its current agreement with the Gymnastiekfederatie Vlaanderen up to 2024 and will therefore remain sole equipment partner of GYMFED. Thanks to this collaboration, GYMFED can continue to use the JANSSEN-FRITSEN appliances for its operation.
JANSSEN-FRITSEN is an international company with a leading position in the development and delivery of gymnastic, sports and game materials for more than 60 years. Their gymnasts are renowned and are used worldwide at the highest level, including Olympic Games and World Championships. The extended partnership with JANSSEN-FRITSEN runs for seven years and will mainly be expressed through the large number of GYMFED organizations in Flanders.
The device manufacturer will continue to supply equipment for all GYMFED activities in the coming period. What is new here is that we also use recreational gymnastics equipment. In addition, JANSSEN-FRITSEN and GYMFED are joining forces to ensure that the World Age Group Competitions and the ACRO World Championships, which take place in the Antwerp Lotto Arena in April 2018, are top-notch.
"With this renewed collaboration, our baseline 'From basic education to world achievement' comes into its own". According to Dirk Van Esser, managing director at JANSSEN-FRITSEN. "With the knowledge we gain from the top competitions, we are better than anyone capable of making safe, durable and user-friendly devices. JANSSEN-FRITSEN and GYMFED both strive to achieve absolute top performances and to get every athlete on the move at his level. "