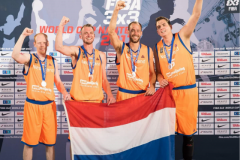 As a partner of the NBB and privileged supplier of 3x3 basketball, JANSSEN-FRITSEN is pleased that the Dutch 3x3 basketball men are financially supported by NOC * NSF on their way to Tokyo 2020. This financial support is possible thanks to the extra budget that the government will make available for top-class sport from 2018 onwards.
The financial support contributes to the intensification and professionalization of the sports program, as a result of which the pool of top players who want to play 3x3 can be increased. The support of the NOC * NSF and the Ministry of Health, Welfare and Sport also ensures better preparation for the qualification for Tokyo in 2020. Moreover, this is a great recognition for the achievements of the Dutch 3x3 men of national coach Brian Benjamin in recent years.
The Orange Lions, for example, are structurally in the top eight of Europe and the world in large final tournaments. In 2016, the Netherlands captured the bronze at the FIBA ​​3x3 Europe Cup (EK) and the Dutch Team was sixth at the World Cup (World Cup). Last year there was the seventh place at the European Championship and the silver at the World Championship added. That World Cup silver is the best achievement ever of a Dutch able-bodied basketball team in the seniors.
3x3 Basketball got an olympic status in June 2017. In 2020, this rapidly growing basketball form will be on the program for the first time at the Olympic Games. The 3x3 men, who are part of TeamNL, want to play the first Olympic 3x3 medals in Tokyo. The extra support is an important boost for the Dutch Basketball Federation and the Orange Lions 3x3, in order to remain ahead of the competition on the way to Tokyo.
This year both the Dutch men and the women were placed for the World Championship 3x3 basketball in Manila, which will be held from 8 to 12 June. After the World Cup, both selections will focus on the qualification for the European Championship 3x3 that will be held in Bucharest from 14 to 16 September. JANSSEN-FRITSEN has already provided partner NBB with basketball-related materials for several years, including the successful Streetball Masters 3x3 Tour.
One of JANSSEN-FRITSEN 's brands is SCHELDE SPORTS, a well-known name in sports when it comes to basketball towers. JANSSEN-FRITSEN and the Dutch Basketball Association have been working together intensively for a number of years, in order to allow the 3x3 basketball to grow.