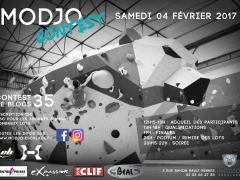 On Saturday 4 February, MODJO, the new bouldering centre in Rennes, hosted its first bouldering contest to kick off 2017.
No fewer than 35 qualification bouldering routes were set for six male and six female finalists.
The centre's iconic bear and the 650 m² of climbable structures designed by ENTRE-PRISES were at the heart of the problems to be solved!