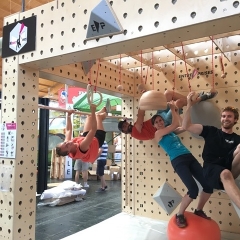 On Sunday 18 June, an ENTRE-PRISES product was selected out of 330 entries to receive an OutDoor INDUSTRY Award prize in the 'Concepts and Services' category.
Each year, the OutDoor INDUSTRY Award ceremony is one of the highlights at the Friedrichshafen international trade show, where the most innovative products are rewarded and put on display for visitors in a special exhibition area.
Before formally awarding the Winner, Gold Award Winner or Start-up prizes, a panel of renowned experts assesses the products entries according to set criteria. The judging process consists of two stages: a pre-selection stage and a stage where finalists present their product to be tested and evaluated in detail by the experts.
The jury of twelve experts, including five journalists, sports people, designers and manufacturers from seven different countries worldwide, officially recognised that Monkey Space revolutionises climber training and progress. Available in four basic formats, Monkey Space enables climbers and gymnasts to develop technical and physical capacities, whatever their level.
This is a new versatile and fun training tool that is simple to assemble and easily fits into any climbing, fitness or leisure centre wanting to provide clients with ever broader experiences.