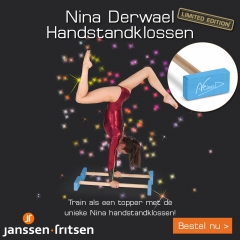 Top-notch training with the unique Nina Derwael gym collection.
Psst! JANSSEN-FRITSEN has great news! Would you like to train like star Nina? You can! With the unique Nina Derwael gym collection you can enjoy some top-notch training! In April, Nina Derwael became the European champion in the uneven bars at the EC in Romania and won bronze at the World Championships in Montreal.
Her career as a gymnast
She began at a very young age and participated in the Belgian Junior Championships at the age of 14. This is where she won 5th place in the individual all-round competition. In 2015 she won gold at the Flemish and Belgian Junior Championships.
In 2015 and 2016 she was named 'Truiense sportswoman' at the champions' celebration in Sint-Truiden. In 2016 she won 19th place at the Olympic Games.
Together with this champion, JANSSEN-FRITSEN created a unique collection with a special Nina design. In limited edition!