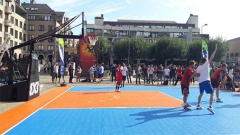 For the "Rentrée Sportive 2017" sports event organised by the UCL Sports' Service at the start of the new academic year, AWWB organised a 3X3 tournament on the Grand Place at Louvain-la-Neuve in Belgium.
ADEC Sport was naturally present at this 3X3 event, supplying its well-known mobile SAM 3X3 basketball hoops from its SCHELDE Sports brand.
ADEC Sport is proud to participate in promoting and developing this growing discipline—3X3 basketball is now an Olympic event and features in the Tokyo 2020 line-up!