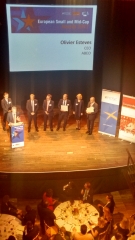 ABEO won the 5th European Small and Mid-Cap Awards 2017 in the "International Star" category at a ceremony in Brussels on 22 November 2017.
The European Small and Mid-Cap Awards were set up to highlight the best European Small and Mid-Sized
Companies that have gained access to capital markets via an Initial Public Offering (IPO). This is a joint initiative
of the European Commission, leading European securities exchanges and EuropeanIssuers. The four winners
were chosen by an independent jury from amongst a very high standard of entries from across Europe.
The International Star winner is a newly listed mid-cap company that boasts impressive results in terms of
international sales, profit and market share growth. All stellar candidates competing in this category have likely
expanded their presence in either existing and new markets and made great achievements in the international
scene. The International Star Award will go to a well-managed company that demonstrates a sound strategy
for taking advantage of opportunities outside its own country.
"This award confirms that we have adopted the right international growth strategy to consolidate the Group's
position as a leading player and expand its footprint in sportainment," comments Olivier Estèves, ABEO's Chief
Executive Officer. "We are very proud to receive this award that is a recognition of all employees of ABEO in
building a solid and profitable Group worthy of its leadership aspirations."